2008
Just a bit of news
29. November. After a rather long period of stand still sled dog training have begun again. The training cart has been replaced by the sled. At the start the dogs were ecstatic and just took of like they had a plane to catch. The training went very well and both the dogs and I love to be back on the trail. There are no pictures from today as it is dark most of the day this time of year at our latitude. I rather like to drive in the dark, so that's kind of perfect. The temperature was minus 20-22°C, also perfect, which is the coldest we have had so far. But that was only in the Örån River valley, otherwise the temperature has been around minus 15-18°C. We drove on the road parallel to the Örån River and it was only just that there was an adequate cover of compacted snow. Trail conditions will improve once we get some more snow and the number of useful trails will also increase when the snowmobilers get their machines out of the garages.
The training this season will mostly be focused on giving Yena and Yarohna the necessary routine and building up their physique and mental maturity. I think it is better to go slow, short and safe than fast, long and unsafe. Therefore we will most often drive relative short runs - and I hope there will be enough spare time to increase the number of "sorties" a week instead. At least later once the ice on the Ume River gets safe to drive on. The river runs less than 150 m from my door step, so it will make it a whole lot easier to get out on the trail after work, instead of having to pack everything and drive 5 - 20 km out of town to get to a suitable trail as I do right now.
I usually don't announce when new links have been added to the link collection, but no rule without exception, so here are two new links which might be of interest: Kennel Polarjuvelen and Kennel Samojeden of White Nordic Storm. Among other things the latter is interesting because Niels Müller even have the samoyeds with him on canoeing trips :-o
Party time
20. October. It's birthday party today. Yena and Yarohna is now one year old :-)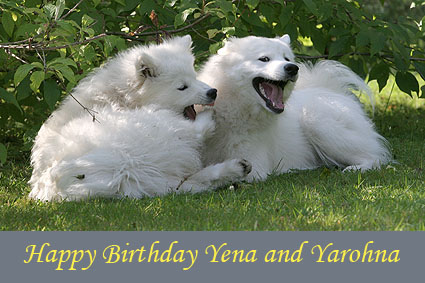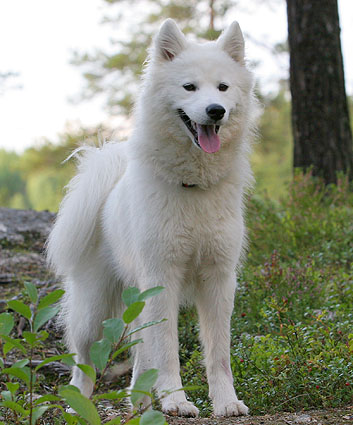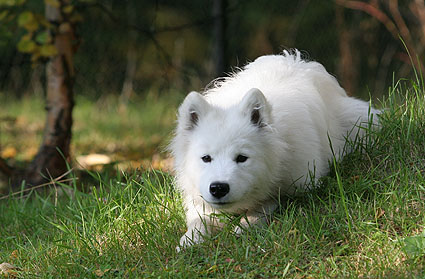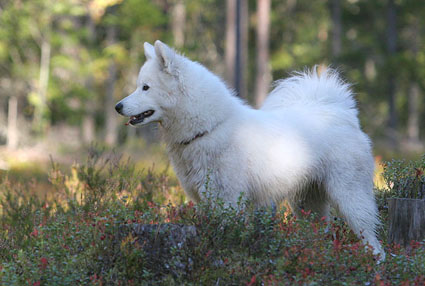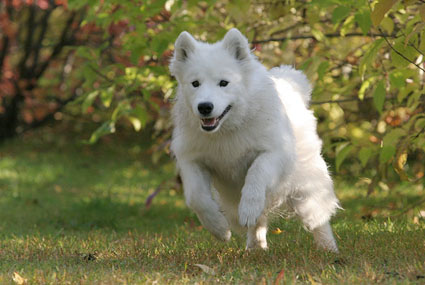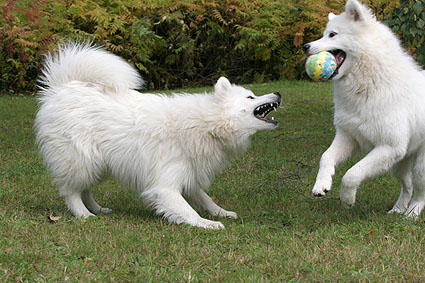 International dog show in Sundsvall
13. October. This Saturday (11. October) Pushkin, Yarohna and I drove to Sundsvall to the International dog show. It was raining when we got there, so it was all about resting the dogs, haul them and all the gear though the vet check and getting indoors before we got to wet and dirty. We had about an hour before we should in the ring and plenty of time to brush Pushkin and Yarohna thoroughly and getting a quick word with our samoyed friends. Later our malamute friends Kirsten and Alex (Kennel Mihakia's) and Karina (Kennel Night Trail) joined the show. First in the ring was Pushkin who was entered in the working class along with only one other contestant. He showed himself very fine and got a fine critique, 1st. prize and placed 2nd. Then it was Yarohna's turn. She was the only entry in the junior class. It was only her second time at a dog show and first time indoor. She didn't like that! She didn't feel secure and at ease in that environement and was far from her usual self-confident state of mind. However she still managed to get a fine critique obey with a note that her tail was down all the time. And that's unusual - she always carries her tail at a correct samoyed style over her back. So despite the fine critique she got a 2nd. prize - which I think is okay, all considered. Our thanks to judge Peter Machetanz from Germany. While we were at the dog show, my mother, who had come to Lycksele a few days earlier, looked after Balthazar and Yena. I think they all had a brilliant day :-)
That's not dust on the lens, or rain - it's snow!
4. October. A light drizzle of snow :-)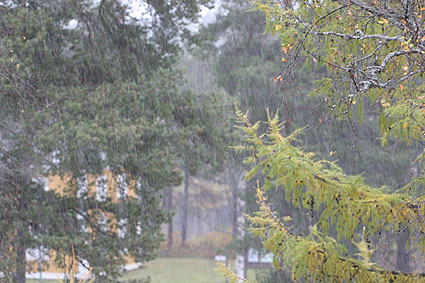 Jetman flies across the English Channel!
27. September. A new chapter in the history of aviation was written yesterday. Swiss aviator Yves Rossy known as Jetman and Fusionman became the first man to fly across the English Channel from Calais to Dover with only a jet-powered wing strapped to his body. In this configuration his body makes an integral part of what could be christened "the Fusionplane". The wing doesn't have any of the control surfaces as a normal airplane and Yves Rossy uses his body to steer the fusionplane. Yves Rossy was launched over the French coastline from a Pilatus plane which afterwards acted as a guide plane for Yves Rossy because he didn't have any navigational instruments to his assistance - not even a compass. The flight was completed in less than 10 minutes, seemingly without any problems and technical issues. The longest flight Yves Rossy have had previously was about 8 minutes and the distance of 34 km across the Channel at this location would stretch his fuel reserves to the limit. Weather is a big issue and on the day it turned out perfectly for the flight with a slight tail-wind to help him along. When Yves Rossy reached the English coastline he even had a little spare fuel to make a few turns over the landing site before landing with his parachute. With this flight Yves traces the route laid down by Louis Blériot almost 100 years earlier, who became the first ever to fly across the English Channel. Another milestone has been added to aviation history. For further information visit these links: Fusionman and Jetman Live.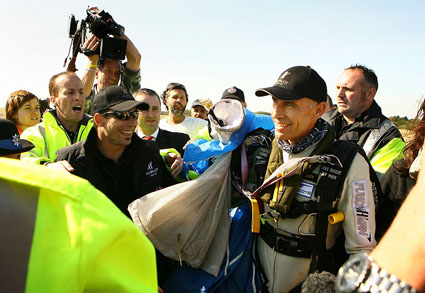 Yves Rossy is greated by media, technical staff and fans after the succesfull flight. Photo: Getty Images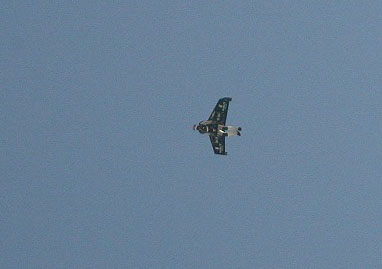 Over the Channel. Photo: Getty Images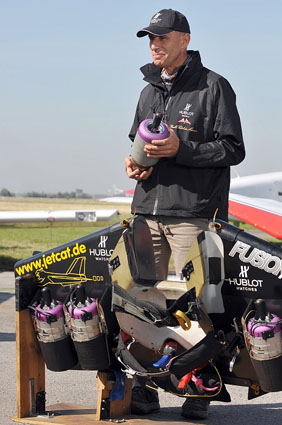 Before take-off in France. Photo: AFP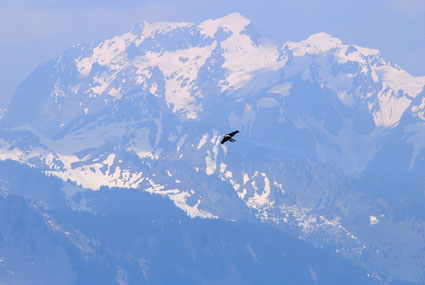 Over the Alps on a previous flight. Photo: Stéphanie Thomet
Team Takotna is up and running!
31. August. What a day! :-) First training run of the season, the puppies, Team Takotna's own four-dog team and dog cart! We went out on a 3.5 - 4 km training run along Örån. Beforehand the puppies separately had been on a few short mountain bike training runs with respectively Balthazar and Pushkin, so essentially this thing with whole team hiked up was all new to them. But they performed very well and we had no major issues. From time to time they were a bit unconcentrated and more interested of what went on in among the trees along the road, and on a few instances they tried to pull to either side of the road - zig zagging the gangline (can you do that with only two rows of dogs....?). But that's to be expected and they naturally have a lot to learn - that's applies to the entire team from dogs to musher. All in all they did what sled dogs do - they pulled - they trotted, looped and paced, most of the time with taught tuglines. The dogs enjoyed the training, their treat after work and I'm one happy musher!
For the time being Yena has to do with a converted pulka-harness till I get her new x-back harness, made by Kennel Vakarevos.
Unfortunately it's almost impossible to locate any dirt roads with side roads going of to the left or right (that is, for the shorter distances up to 8-10 km), so it's going to be difficult to train that part of the commands. But at least Yarohna responds fairly well to left and right commands (I use Danish, 'venstre' and 'højre') when we're out walking. And it's even harder to locate any interconnecting roads where it's possible to make a complete trail from start to finish without doubling back on you own trail. The dirt roads here are either very long and were formerly the main connection between villages or they are side roads going straight into the woods ending blind. So most of the time we're going to run straight down a road for half the distance we doing, turn the team 180 degrees and run straight back again. However, things will improve once the snow falls because then snowmobile tracks will criss-cross the countryside and it will be possible to locate or make complete trails without the need for doubling back.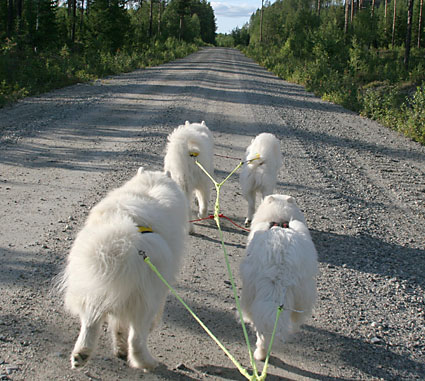 We're off! Pushkin and Yarohna in lead, Balthazar and Yena in wheel.
Halfway point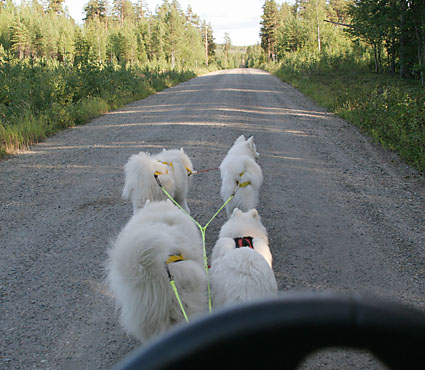 What's going on in there..?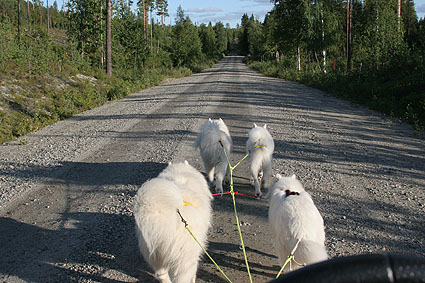 Looking good!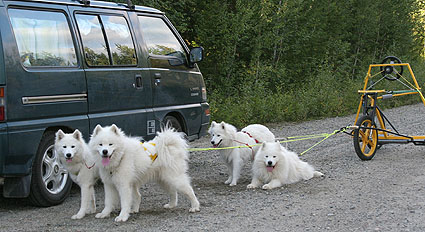 That's one down (training run, not dog!) many to go! Balthazar's doing what he always does - flat on the stomach!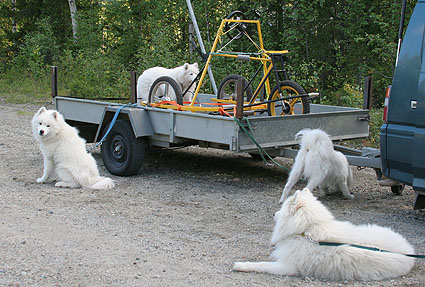 Yena's inspecting the cart!
Dog cart
28. August. My dog cart for training the dogs on dirt roads arrived tuesday. A'int it a beauty?! In my opinion you'll be hard pressed to find a cart better suited for a 2-6 dog team - that is, a samoyed or siberian husky team. The layout, weight, size, steering and brakes are spot-on. It's designed and build by Carsten Madsen (kennel Snemark). I can't wait to get on the roads with dogs now!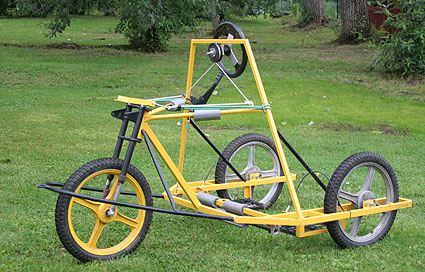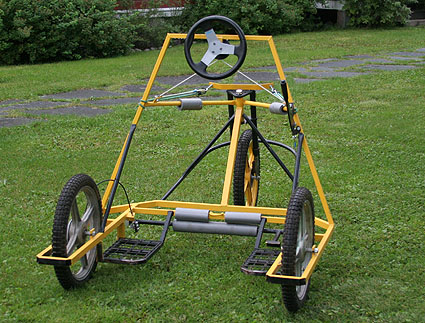 Gallery is updated
24. August. The gallery from our vacation in Särna is finally uploaded. It's has only taken just over a month to get it sort of finished.... You'll find the gallery here.
Yarohna's debut in the show ring
17. August. Today we have been away on dog show in Hammerdal (specialty, SPHK-NN). It was Yarohna's first time in the show ring and she was entered in the junior class. She got away with a first prize. And that's very well done considered she barely have three strands of hair in two rows as she has chosen to drop all her coat during the last month. She's changing to the adult coat. Also she still needs a lot of ring training and practice. Judge was Ewa Widstrand, many thanks to her, and in total there were 8 samoyeds entered. I don't have any pictured from today, so that will have to be skipped.
Vacation
2. August. We have been away on a mini-vacation. Previous weekend and a few days extra (18-22 July) we have been visiting our friends Natasha and Jørgen, Team Koyuk, and all their huskies at their forward base camp :-) in Särna. On our way south we also dropped by at Annica and Nisse, Kennel Nordviken, for a nice cup of coffee and to pick-up some moose bones for Natasha's and Jørgen's huskies.
On Saturday we all drove to the ski and hiking resort of Idre, where we intended to hike to the summit of Städjan. Städjan is a 1131 m high peak which looks like a volcano even though it isn't. The roundtrip is 14 km. Natasha walked with Yena and Jørgen with Balthazar. I walked with Yarohna and Pushkin. But for a while Yarohna and Yena ran free along the early part of the trail and played and hunted insects, birds and each other, which they enjoyed immensely. Nice to see them spend some of that excess energy, that they have saved during the long drive south yesterday. After we had passed two on coming mountain bikers the pups were put on a leash. Fortunately I may add. Because shortly afterwards the dogs began noticing something in the air and some reindeer appeared. That got the dogs fired up! From that point onwards it was easy going upwards - just let the dogs do the pulling! :-) It turned out to be a heard of reindeer that lived on the mountain during the summer months. One male reindeer in particular kept a keen eye on us and followed us along, probably until he was sure that the heard had enough distance to us. This male reindeer would return on our way back from the summit and again making sure we were at a proper distance. In midst of all that, Yena managed to get a swimming lesson in a small pond we found on the way up. We continued upwards and the sides of the mountain kept getting steeper. Finally we got to an area with loose scree maybe a 100 m below the summit on the northern side of Städjan. Here we decided that it was to difficult to go any further accompanied by the dogs, so we turned around and headed back down. But not until we have enjoyed the spectacular scenery and taken a lot of photos. We were right opposite Nipfjället and to the west we could see the Rondane Mountains in Norway. Very nice! On the way back Yena again managed to get her self immersed in water as she jumped down a waterfall of half a metre on a creek that we had to cross. She certainly has no fear of water! Once back at the parking lot the dogs got a snack and we grabbed a bite to eat. Then there was calm :-)
The next day we all took a rest day and watched Tour de France on the telly.
On Monday after the dogs had been walked, fed and petted, Natasha, Jørgen and I drove to Mora to go to the Zorn museum. Anders Zorn was a painter in the late 19'th and early 20'th century who became famous for his portraits and rich also. He was a well renowned collector and if I recall correctly he had more than 400 different silver objects. Any way it was very interesting to see his many paintings.
The dogs and I headed back to Lycksele on Tuesday. It was all too few days of, but they were appreciated that much more!
The gallery will later be updated with pictures from the vacation.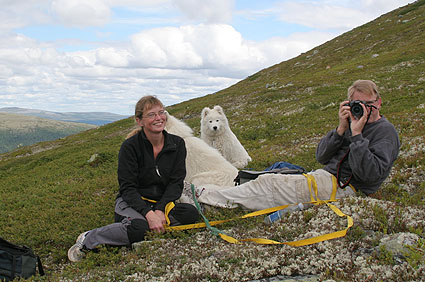 Natasha and Jørgen with a couple of white ones on the slope of Städjan.
Pushkin 4 years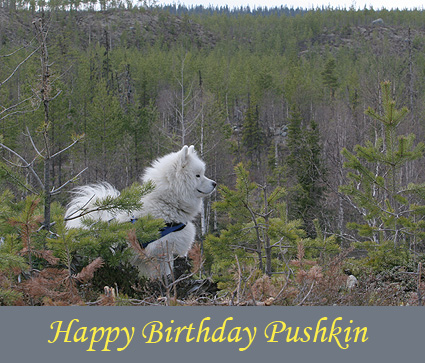 5. July. On July 2. Pushkin had his birthday, which as always were celebrated with the pack and some banana cake.
Balthazar 7 years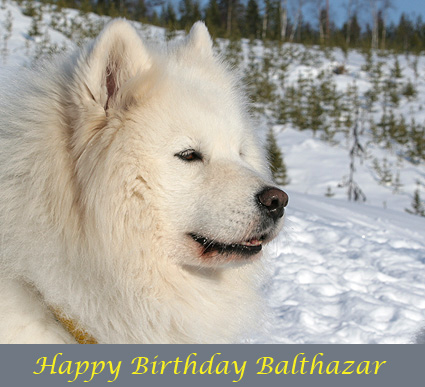 9. April. Today it's Balthazar birthday. As always it's celebrated with the pack and a nice slice of banana cake. Yummy!
Galleries updated
6. April. Easter gallery is now up-loaded.
Galleries updated
30. March. At long last some kind of galleries have been made for the pictures from the Särna - Furudal vacation. The Easter gallery is still in progress. Comments to the pictures will probably be added later.
The bear has awakend
29. March. While the dogs and I was taking a walk in the wood today, we met some snowmobilers who told me that a bear has crossed their tracks just 10 minutes before. I decided to turn back immediately - there has been to many tales about bear encounters with not so pleasent an outcome. I also wanted to get home, fetch my camera and return in the safety of the car to photograph the pawprints.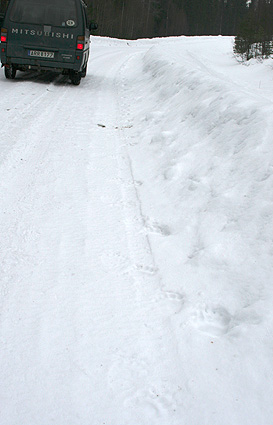 Pawprints by the roadside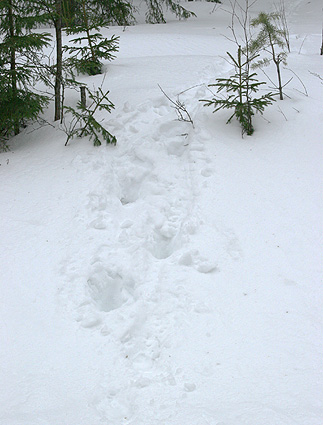 Where the bear exited the forrest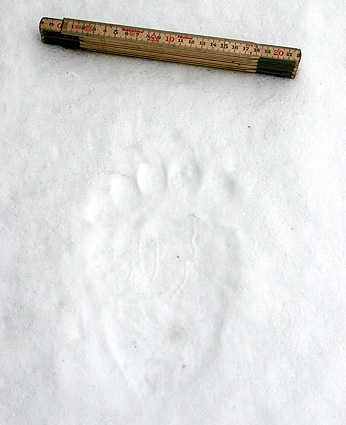 Pawprint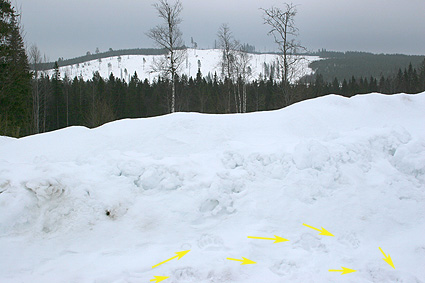 300 m further up the road. The arrows points to pawprints.
From the place where the bear exited the forrest it (actually he or she, as the bear isn't an inanimate thing!) followed the road all the way up here and a bit further on. I later met one of the snowmobilers again, who could add, that the bear also has been traversing the hill in the background of the picture.
Lance Mackey 2008 Iditarod Champion!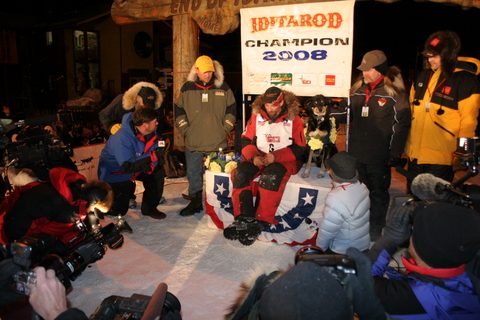 Lance Mackey 2008 Iditarod Champion. Photo by Jon Little.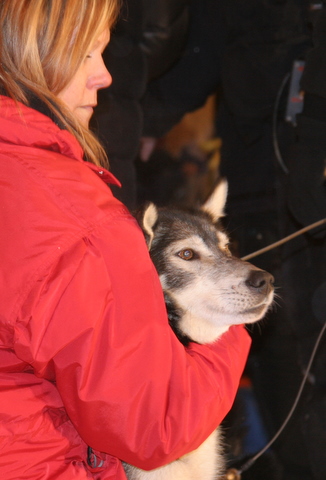 Lead dog Larry 2008 Iditarod Champion. Photo by Jon Little.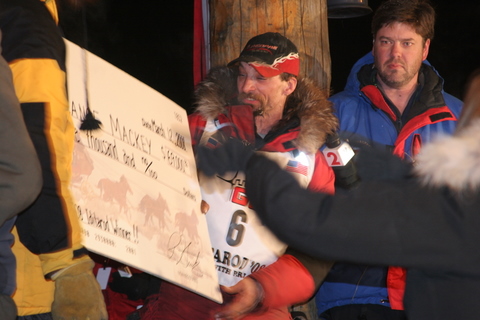 Lance Mackey receives a nice check of $69 000. Photo by Jon Little.
12. March. Lance Mackey has done it again! He's the 2008 Champion of the Iditarod Trail Sled Dog Race. Mackey wins the Iditarod back to back with the victory in the 2008 Yukon Quest. He's closely followed by Jeff King. They started within some 15 minutes of each other back in Anchorage/Willow. In Takotna there was still 15 minutes between them. Mackey would typically leave checkpionts fast and take more rest on the trail, whereas Jeff King tended to stay longer at the checkpoints. Mackey would typically have some time on King, but King would more or less reel that in with faster run times. Once they hit Unalakleet by Norton Sound, Jeff was in lead. But not for long. Lance soon took over the lead again and they continued jousting on the trail to White Mountain. In Elim, the checkpoint before White Mountain, Mackey pulled a fast one on King. He bedded down his dogs and went to rest himself. King did the same. Then Mackey waited until he heard King was a sleep, picked up his gear silently and sneaked out of town. He had hoped to gain at least half an hour, but managed to get one hour lead on King. This trick is so old every one have forgotten all about it. King was furious, and there was nothing he could do about it, but give chace. It seemed that there was more juice left in Mackey's team, and he managed to keep his distance to King, arriving in White Mountain 53 minutes ahead. After their mandatory 8 hour layover in White Mountain, they left for Nome, where Mackey arrived 1 hour 19 minutes ahead of King this morning at 02.46.48 am AKDT, 11.46.48 CET. Mackey's winning time is 9 days 11 hours 46 minutes and 48 seconds. The trail conditions this year have been difficult with lots of soft snow, high temperatures and overflow making it hard on the dogs and progress slow. The teams didn't really encounter cold weather until they reached the coast of the Norton Sound.
2008 Iditarod update.
5. March, 0921 pm AST, 0721 CET.
The front runners are fast approaching Takotna and will arrive later today (CET). The village makes a point out of serving every musher a steak dinner. This checkpoint has the advantage of having quiet surrondings to those mushers who choose to rest there and maybe even take the mandatory 24-hour layover. The map is from IonEarth.
Kennel Ulvedalen. And the Iditarod.
3. March. Kennel Ulvedalen, Susan Hansen and Bo Petersen, have some breaking news from Dawson. There's more on the Gold Rush Museum and Björn Uglem Adventure here.
The front runners in the Iditarod are fast approaching Rainy Pass Lodge checkpoint. After that comes a relatively short stage to Rohn checkpoint. But that stretch includes the infameous Dalzell Gorge with its narrow and twisting trail and risk of overflow on the river.
2008 Iditarod restart
2. March. The restart is on right now. This year you can follow 19 mushers and 1 trail breaker live by GPS tracking at this link. Is that cool or what?! You'll have to register by an e-mail address, but that's quickly done.
2008 Iditarod
28. February. The ceremonial start of the 2008 Iditarod is only 2 days away now. The start will take place downtown Anchorage Saturday March 1, 10.00 am AST, 20.00 CET. The restart from Willlow will follow on Sunday March 2, 02.00 pm AST, 24.00 CET. You'll find all kind of updates and informations here.
Vacation in Furudal
24. February. It's time for a bit of update. The last week and a half (11-20 Feb.) the dogs and I have been on vacation in Dalarna. Monday Feb. 11 th we drove to Särna, where we spend a few days visiting Natasha Epstein and Jørgen Grüner and all their huskies – Team Koyuk. Jørgen has signed up for the Polardistans 400 km and throughout autumn he and Natasha have been training their huskies in the woods of Denmark. But for the last month and a half Jørgen have been training under winter conditions in the mountainous area around Särna. The training progresses as planed and the dogs are in very good shape now. The start of Polardistans will take place on March 12, so be sure to follow updates from the race at the official website - link. It was most enjoyable to be visiting Natasha and Jørgen and to catch up on old times – the best possible beginning of a vacation. We also vent to the nearby nature reserve Fulufjellet's National Park, where we walked up to the see the tallest waterfall in Sweden, which is some 100 m+ high - and frosen solid this time of year.
From Särna we drove to Furudal where the annual Nordic Samoyed Gathering took place. This is also the annual winter vacation for lots of our friends from Denmark and which we really longed meet again! So it was with great anticipation we met all our friends and we had lots fun, food, wine, beer and good times. It couldn't be more enjoyable than that! Thanks all, you're amazing J . As part of the Nordic Samoyed Gathering a dog show was held on Friday. More than 100 samoyeds were entered, a fine tribute to judge Freddie Klindrup. Pushkin was entered in the open class, where he got a 1.st prize, but wasn't placed in the final of the open class.
We should have started in the sled competition on Saturday with a 4-dog team. But prior to the race a test run with the dogs, showed that some of the dogs wouldn't run and I opted to scratch. In hind sight this was a good decision as it first of all gave me opportunity to take photographs of the Danish 4- and 6-dog team's as they headed out on Saturday and secondly the possibility to run the Polarhundtest A (10 km in max 1 hour with a 20 kg sled) with Pushkin on Sunday. The trail conditions deteriorated rapidly over the weekend due to the warm weather. The original plan was to run the Polarhundtest A on Tuesday, which fortunately wasn't to be. Pushkin was well and truly fired up when we started the Polarhundtest A. He turned better than before and where the trail was tricky due to the amount of ice, he stayed right in the centre, avoiding the slanting sides of the trail and the deep snow right outside the main trail. He blasted through the 10 km in 40 minutes and 24 seconds! Something I wouldn't have dreamed of in my wildest imagination. Some may recall his run times from the Novemberløbet 2005 and their appreciating comments of him being a white furry "husky" or they considered changing to samoyeds if they all are like him ;-) From the 10 km marker we continued to the finish line and an unofficial finish time of 50 minutes and 5 seconds for the 12.2 km. Any way, he passed the Polarhundtest A and together with his approved Polarhundprov 2 run time from Furudal 2006 he got his first title PDP (Polarhunddragprov, "Polar Dog Pulling Test"). This also enables him to be entered in the working class on dog shows.
The rest of the days, till we drove home again, we just enjoyed hanging about with the others and hoping the vacation wouldn't end. It's a long time till next year's vacation in Furudal!
Pictures will follow when I get some kind of gallery up and running.
Pictures last weekend
9. February. Pictures.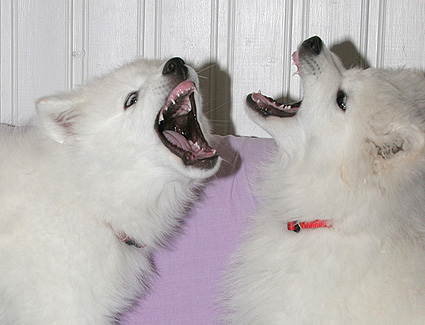 My fangs are bigger than yours!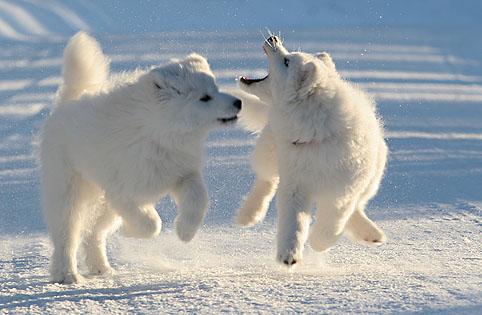 Come on and get me if you dare!
Yarohna
New Links
7. February. A lot of links have been posted. Take a look here: Links
Pictures from the Gammplatsen and Örån River
27. January. Here's a few pictures from this weekend. New link to Team Husky Horizon.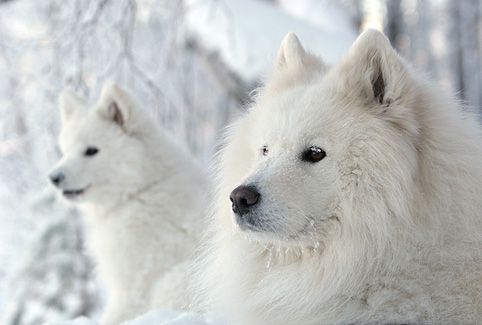 Balthazar and Yarohna scouting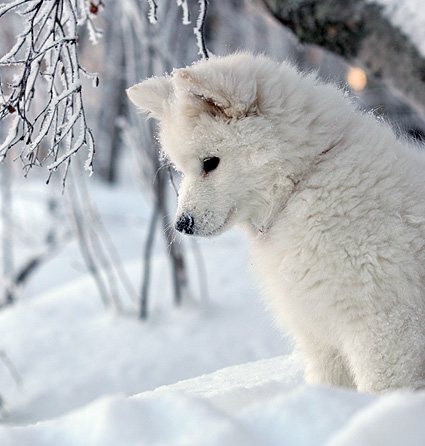 Hmmm.. Anything interesting?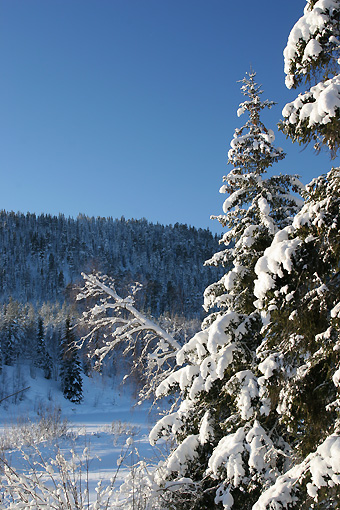 Blue and white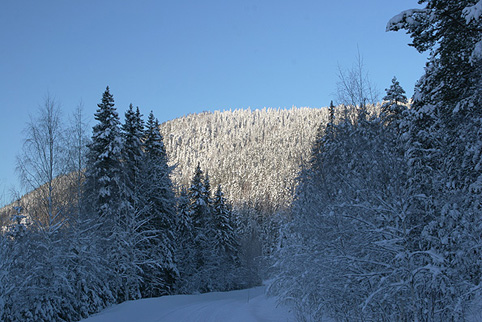 More blue and white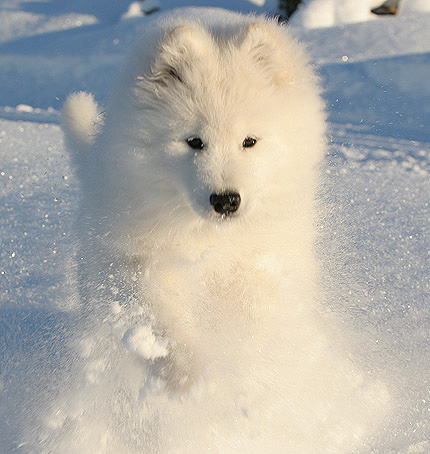 Ain't I cute?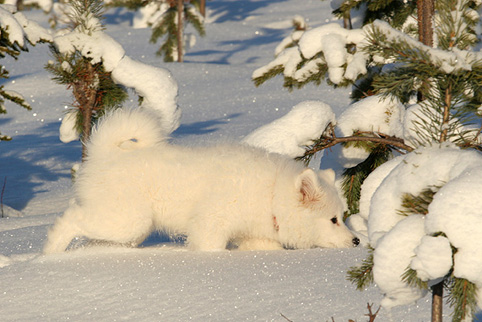 On the prowl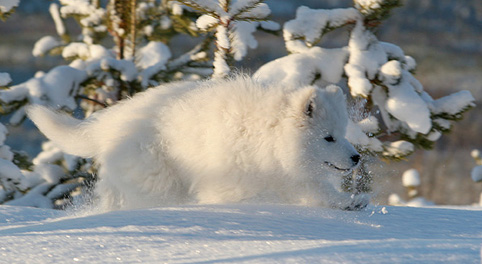 Also on the prowl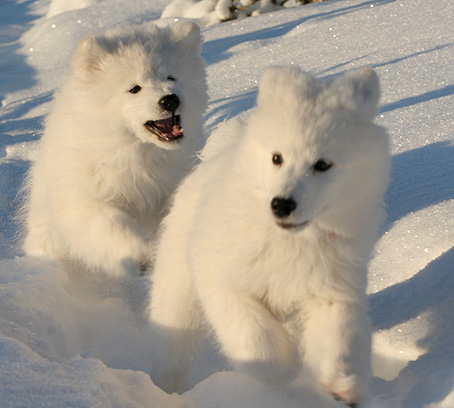 Watch out for those fangs
Pictures from the weekend
21. January. News from 2007 are moved to the archive.
Here are a few pictures from this weekend. Location is the Örån River valley.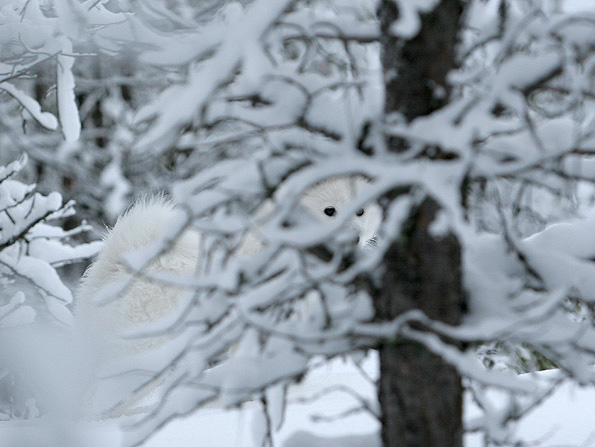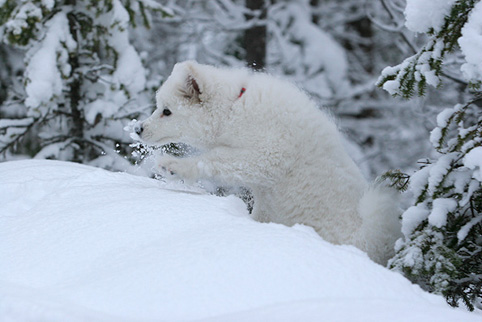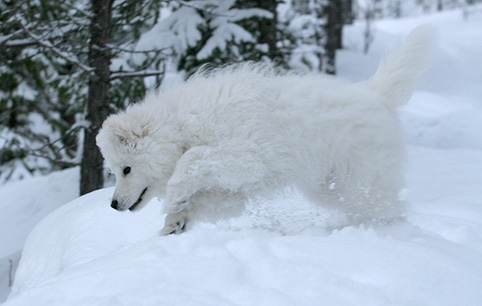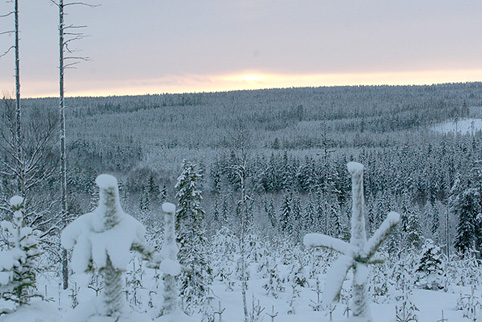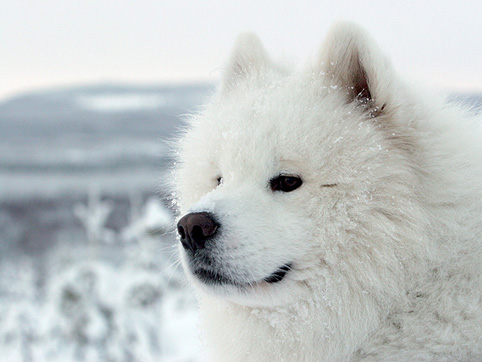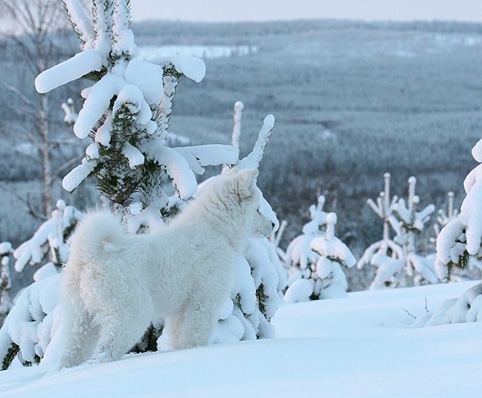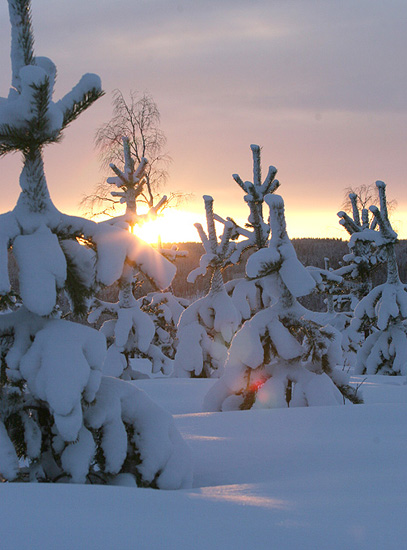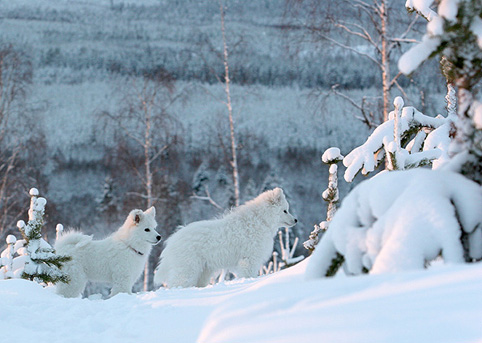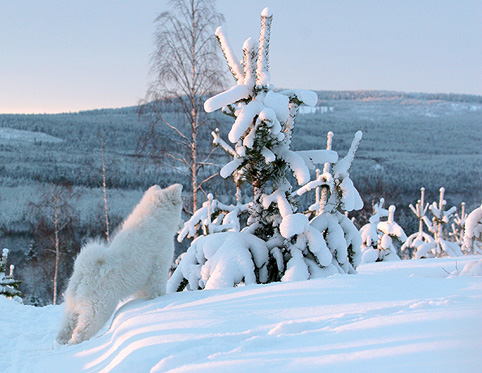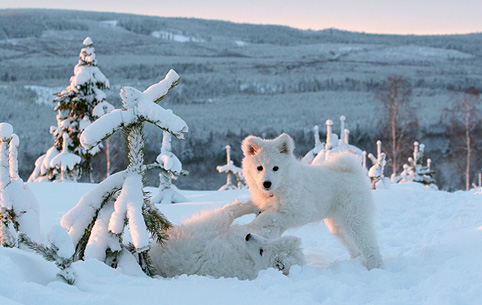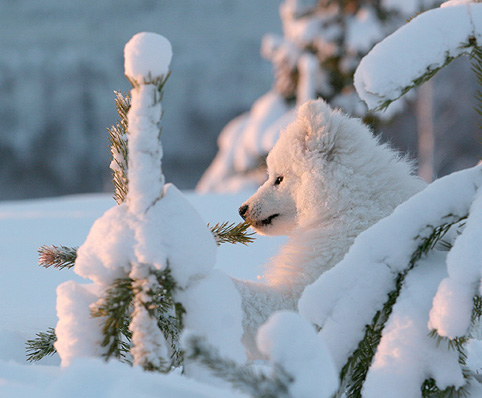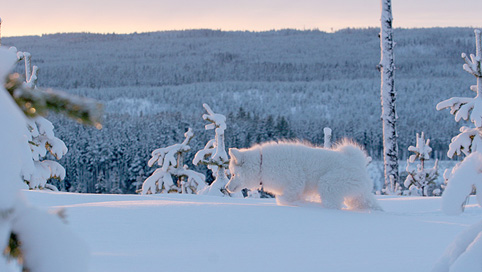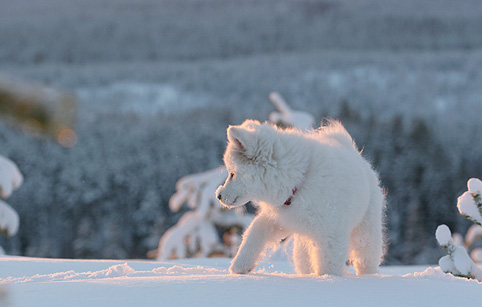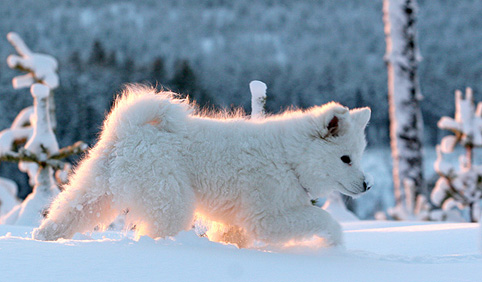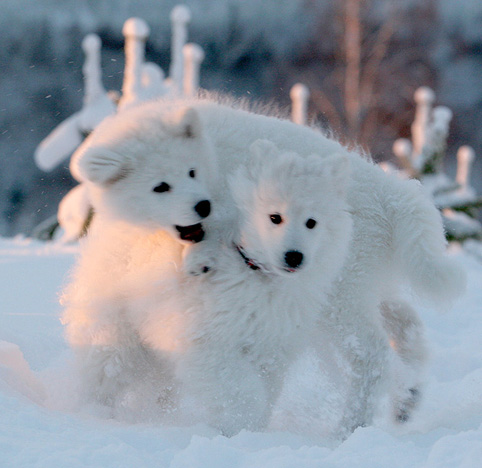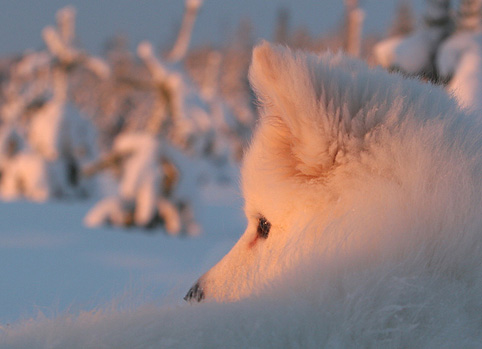 2007
Here's a bit of news
December 29. Wednesday last week two female puppies joined our little pack. They come from Kennel Nordviken, Annica & Nisse Uppström, just west of Östersund. They were born October 20. 2007. Their pedigree names are Nordvikens Yarohna Yamal and Nordvikens Yena Yamal, respectively called Yarohna (mostly pronounced in the flat pronounciation danes have) and Yena. They have settled very well into their new surroundings. Pushkin finds them very amusing and loves to play with them. Balthazar is a bit more reserved towards them, but he's also sort of the patriarch of the gang ;-) But he's beginning to thaw – actually that began within the first few days – and shows some interest in them.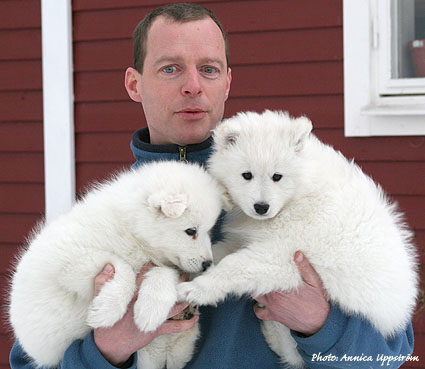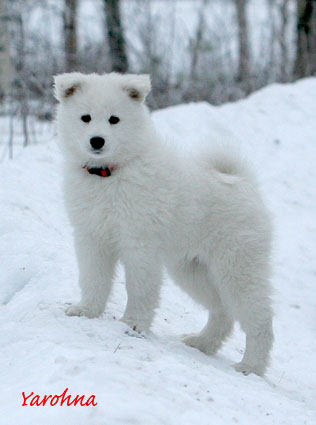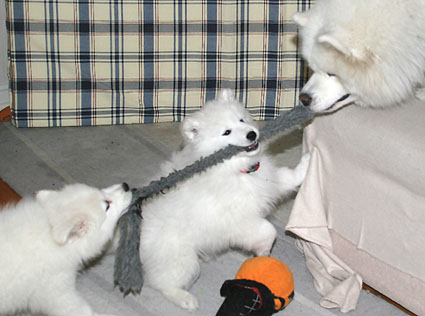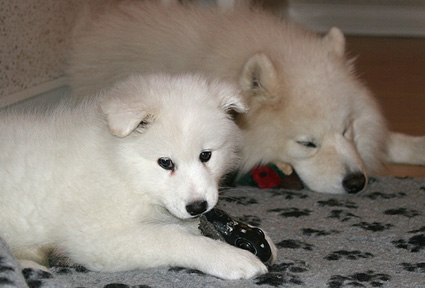 During the Christmas holidays my mother and grandmother came to celebrate Christmas with the dogs and I. Both Balthazar and Pushkin are absolutely crazy :-) about my mother and grandma and were totally ecstatic when they arrived at Lycksele Airport. Naturally much of the time were occupied by the puppies, but it was some very fun days for all. We also visited the Lycksele Zoo where the wolf below was photographed.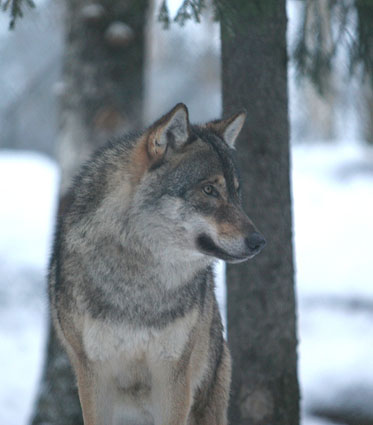 December 29. Today. Here are the puppies watching "Snow Dogs" at the telly while they enjoy a nice fibrous snack of birch bark ;-)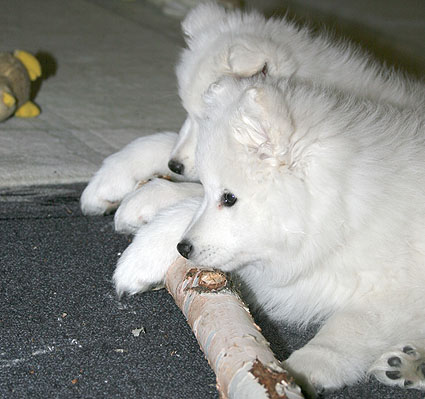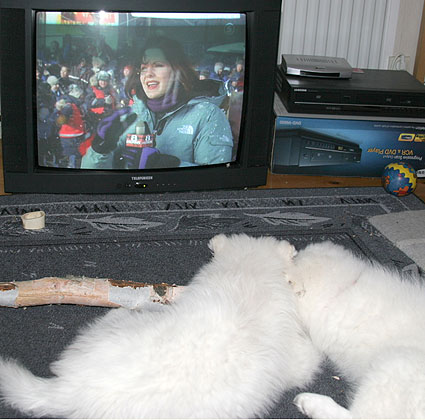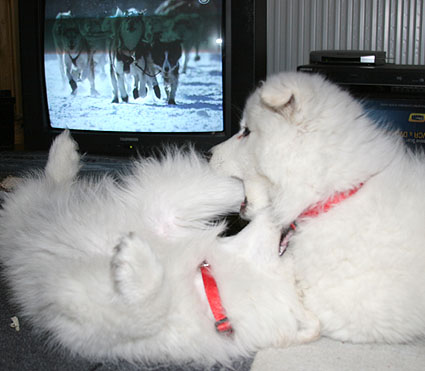 Now it's getting a bit boring, all that dog driving, we are not old enough for that just yet.
Pictures from today
November 4. Up to this weekend we've got about 5 cm of snow. Yesterday we enjoyed just walking around in it. Today we went for the first training on snow, still keeping the pace and distance down. Here are a few impressions from today. Enjoy :-)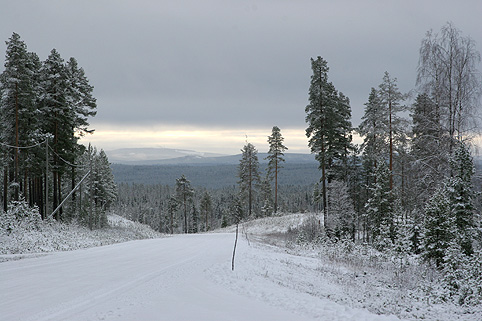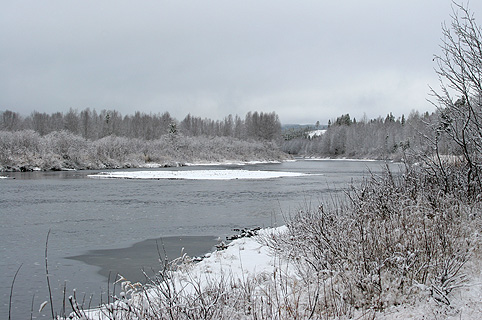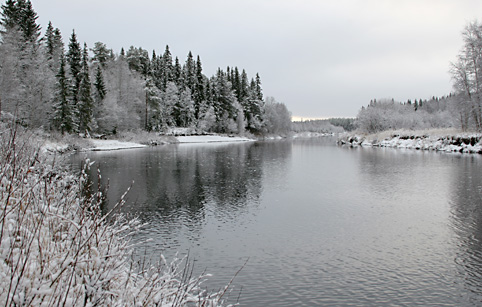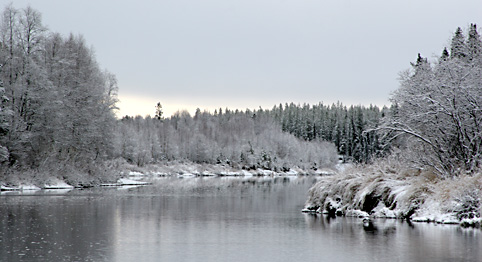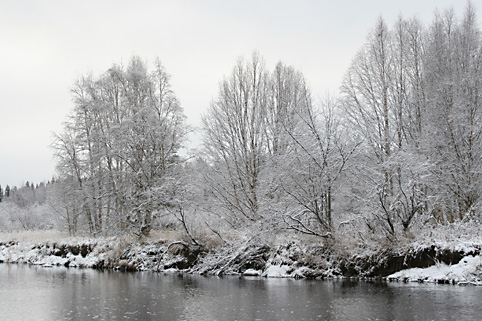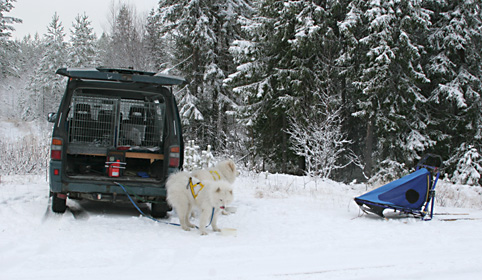 Breaking news
October 20. Click here for the full coverage (pdf-file)
A few updates
September 10. Well, is has been some time since the last news. Late august we drove to Denmark on a 2 week holiday. Besides having a really great time meeting a lot of old four- and two-legged friends and family, Pushkin and I went on a dog show at Sofiero ( Helsingborg, Sweden). Almost to the day it was a year since Pushkin last time was on a show and he excelled in becoming BOS and getting his first Swedish CAC.
Well home again and a month later, last weekend, we were at an international dog show in Sundsvall. Yet again Pushkin excelled, this time he became BOB, got his second Swedish CAC and first CACIB.
Pushkin 3 years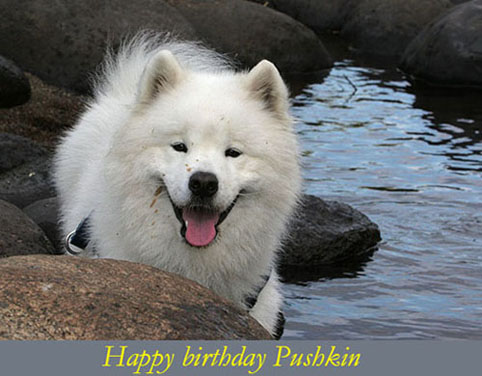 July 2. Today it's Pushkins birthday. It has been a brillian day with lots of sun. We took a trip to the Örån river where we have found some nice places to hang out and where we can run about without leash. The water level in the river is quite low so much of the river bed and many of the large boulders in the river are now exposed. Really a funny places to run about and lots of sand to dig! Of cause we had banana-cake when we got home.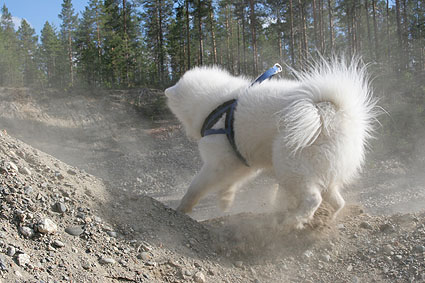 What a lot of work to do!
Still more to do.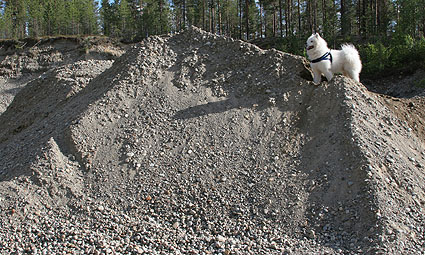 Almost there. Yeahh!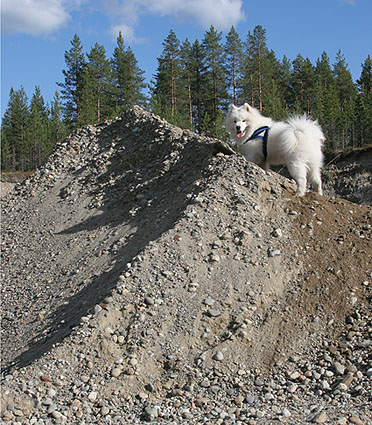 What do you want? Can't you see I'm busy?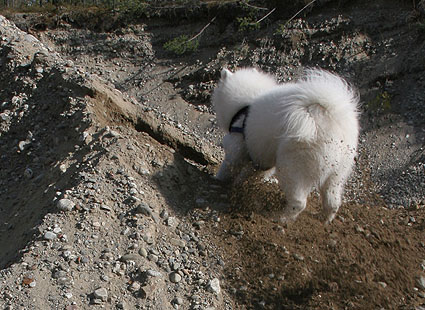 Closing in.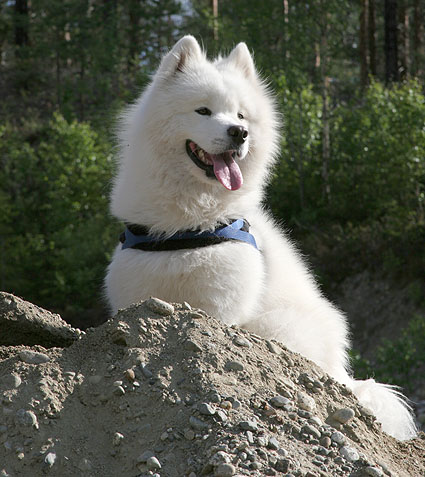 Done!
Whoaa!. Did I do all that? No wonder I'm thirsty!
Balthazar 6 years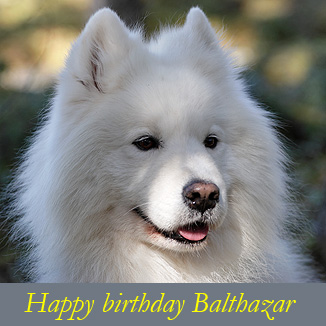 April 9. Today it's Balthazar's birthday! The weather has been perfect, with clear blue sky, lots of sun and mild temperatures. We went of to the forest near the Örån river, where Balthazar and Pushkin spend most of the day nosing around and enjoyed all the smells of the forest as it heated up. Tonight it's time for some banana-cake, as always on a birthday.
GOLD!
April 7. Yesterday the dogs and I went out for a walk in the forest and to do some gold panning. That is, once we have walked around a lot, the dogs took some r & r on a slab of ice, while I tried out my new gold pans. One gold pan is a classic steel pan (Eastwing) and the other a black plastic pan ( Klondike special).
I scooped a lot of gravel and sand from a small creek into a bucket, where I shook is vigorously and removed the larger boulders. Then I took half the amount of sediment and panned it with the steel pan. Result - no color. By the way, this was not a test to see which pan worked the best. As my first attempt in panning for gold, I just wanted to hear the sound and get a little bit of the historical sensation by using the steel pan. Old timers used a steel pan, you know! ;-)
Then I took the rest of the sediment and panned it with the plastic pan, taking care of doing it more thoroughly. There it was - one minute grain of gold! Sorry, no photograph, it's simply too small.
The grain is somewhat elongated and conical measuring approximately 0.22 x 0.1- 0.08 mm giving it a volume of ca 0.01405 cubic millimeters.
Apart from the content of silver, copper and other impurities and taking into consideration the price of gold, currency rates, the specific gravity of 19.3 and, say one half of the volume which is probably closer to the actual volume, the grain of gold may represent a staggering value of 0.0029 USD or 0.016 DKK. I don't think we have cornered the international gold marked just yet! ;-)
Have a nice Easter.
Lance Mackey winner of The Iditarod Trail Sled Dog Race 2007.
Photo by Jeff Schultz
March 14. Lance Mackey arrived in Nome 20.08.14 ADT (05.08.41 March 14. CET) after 9 days 5 hours 8 minutes 41 seconds of racing. He's the third Mackey to win the Iditarod making it a family hat-trick. His father Dick won it in 1978 and brother Rick in 1983. They all won in their 6 th attempt wearing bib number 13. What makes this years victory remarkable is that Lance and his dog team also won the Yukon Quest 2007 just 10 days prior to the start of the Iditarod. 13 dogs of the Quest team started out in Anchorage March 3 and 8 pulled through all the way to Nome. Outstanding!
It was a hard fought race right up the White Mountain check point, with a lot of tough conditions along the trail.
Paul Gebhardt arrived in Nome in second place after 9 days 7 hours 28 minutes 12 seconds.
3. March. Today the XXXVth Iditarod Trail Sled Dog Race takes off with the ceremonial start. The re-start will take place tomorrow at Willow Lake. You'll find live up-dates and stories from the trail at these links: The official Site of the Iditarod and Cabela's Iditarod 2007 Race Coverage.
2006
Morten Andersen
16. Dec. Morten Andersen, Atlanta Falcons, has taken the record as the most point scoring player ever in the NFL.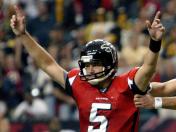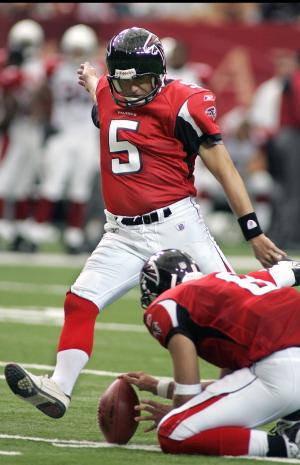 Photocredit: Scanpix
27. Nov. This weekend we took part in the annual November race (Novemberløbet) held by the Danish Siberian Husky Club. Jette's & Freddy's Xena and my own Pushkin were entered in the C2-class (2-4 four dogs) along with four other teams. This early in the season racing with the dogs still bears the mark of training runs. My dogs worked very well. They are both still very young, so building on their teamwork is essential - and they are doing fine. We had a few minor problem under way - mostly the my lack of air ;-) and the abillity of the dogs to change tempo when asked to. Overall we had two very good runs. We ended up 4. placed behind three very good and fast teams. Congratulation to Nick, Chani and Dundee for their 1. place, Ken, Bastian and Samson for their 2. place, Martin, Barnie and Joey for their 3. place and Line Olesen with her two malamutes for their 5. place.
Pictures from the weekend will be uploaded later this week when I get some kind of gallery working.
Next weekend we will be racing in the 2-dog class in Klosteris.
28. Oct. Today's photo from the training. Wheeldogs Bella(r), Xena (l) and leaddogs Blazy (l) and Pushkin (r). Thanks Jette.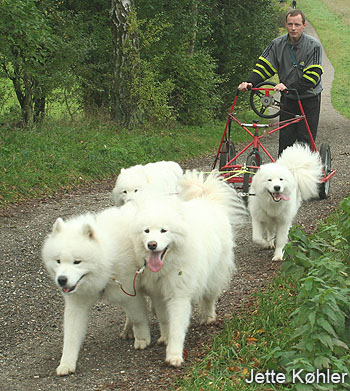 14. Oct. At last the training season has arrived. At the early hours this morning we drove to our usual training ground - the Bidstrup-forests. The tempereature was still a little to high, but this being the first run of the season it wasn't to bad. For the 4-dog team together with Pushkin, I borrowed Anette & Ken's cart, Barnie from Nana and Bella & Xena from Jette. This was the first time Xena has ever been put on a team. She was somewhat apprehensive at first, but once we got away she calmed down. Barnie & Xena ran wheel and Bella & Pushkin ran lead. We drove the same 4 km as Balthazar and I had run just before. The traning went very well. A few stops to untanckle a leg from the pull-line was the only "problems".
It was really nice to be training again and hopefully the temperatures soon drops to a more dog-friendly level. Thanks to all for lending cart and dogs. Anette, Nana and Jette were as always on their marks with the cameras and here are a few shots.